.
The heat is on at Th 7th Ann Summer fest 2015, so save the date now. Summer Fest July 25 and 26, 2015. Come out to join the walk for the homeless or just meet with them to see what you can to do to make a difference this summer.
We are getting ready for summer 2015. The word is out and things just got crazy. Special guest will show this year. For all the You Tube fans go here:
Summer Fest on Venice Beach

We plan to bringing it, the best summer festivals to Venice Beach for the public to enjoy this summer. The summer brings over 500,000 people to the beach. So come check us out, relax and enjoy yourself at our party at the beach before summer officially ends. Over 50,000 people are coming out to join us for a day and night of live bands, great food, and music from all around the world. So come enjoy the magic and fun of the summer with the vendors and more. This event will take place annually with kids sectioned in over 200 booths.

The heat is on at Th 6th Ann Summer Fest 2015, so save the date now.

Summer Fest July 25 and 26, 2015.

See the Biggest Summer event that hits Venice Beach this summer.

IT"S SO BIG WE START NOW TO MAKE IT HOT!!! If you still want to book your band or perform in Venice Beach. For vendor info email us. Over 200, 000 people will be at beach this summer and there about 50,000 people that run through the vending site


7th Annual Summer Fest 2015 in Venice Beach: July 25 and 26, 2015.
This event opens the summer for Venice Beach with FOOD from all over the world a FUN Kids Carnival and the Beer gardens on 25 Windward to buy tickets go here on line

HELP US "MAKE A DIFFERENT " Charities: HOMELESS, SCHOOLS, DONATIONS MAKE A WISH FOUNDATION TO HEATH ILLNESS We are ambassador for Children's day and Earthday S'kool Music of Orange County, the Alzheimer's Association The Leukemia & Lymphoma Society, Boys and Girls Club, H.E.L.P FOUNDATION INC, and Dunking Frogs Foundation.

Sponsorship for Any of our event: Please contact us in writing.


Costs shows: Booth (10 x 10) - $475 Front/Commercial- $650 Corner - $575
Food Vendor - $875 Drinks - $650 Entrance - $775


Sponsorship Costs: Flat Screen digital video broad cast at event sponsors

Gold Membership - $5,500 This includes 30 x 30 booth. Logo on stage, all banners, fliers, ads, and website. Audio video adds on Flat screen

Silver Membership - $4,500 This includes 20 x 20 booth. Logo on main banner, and website. Audio video adds on Flat screen


Bronze Membership - $2,500 This includes 10 x 20 booth. Logo on banner, website and space in front

______________________________________________________________________


We are quickly receiving a large response on this event. Attendees are buyers/shoppers, tourists, locals, vacationers, college students, parents, and kids. Everyone will be off to the beach to visit and see this event so we expect high traffic.

About us: Fx3Events was established in 2000 and has been responsible for putting on craft shows, fashion shows, and coordinating with other groups for over 14 years. Our services include: fund raising, model searches, business marketing/generating leads, and new client research. We also provide booth set up for expos and festivals, as well as event supplies such as chairs, tables and canopies. Our focus is on events and marketing for 14 years running. It our way to help out the economy giving companies a place to market and sell as we bring work to the community and help out many groups as well.

For marketing info call us or email us in writing.
Lead, expo staffing for you next events, or just buy leads anywhere in USA.

FX3EVENTS
P.O. Box 461035 West Hollywood, CA 90046

562-277-7174 / lahere4u@aol.com

We are ambassador for Children's day and Earthday
__________________________________________________________________________ If you have art work, homemade items, products from your company or anything you would like to showcase we want you! :) Message us for details on booth rentals.
Entrepreneurs or vendors to set up a booth to advertise their merchandise

Types of Vendors Desired: -home improvement -cosmetics
- health and fitness
- Unique Arts & Crafts
- Jewelry
- Natural fiber clothiers
- Environmental goods, services & information
- Peace Products -FOOD on only some events
The event we all been waiting for is back!!!

Hold your space now to get the beast location.

This event will be even hotter in 2014.
A SPECIAL THANKS TO SPONSORS FROM 2009 to 2014 SUPPORTING ALL SUMMER FEST.*********** FORD ****

*******" Greyhound Express, Starbucks VIA and TOYOTA "********

To join us at any of our events


Call us 562-277-7174 go to myspace.com/fx3 events or twitter

________________________________________________________________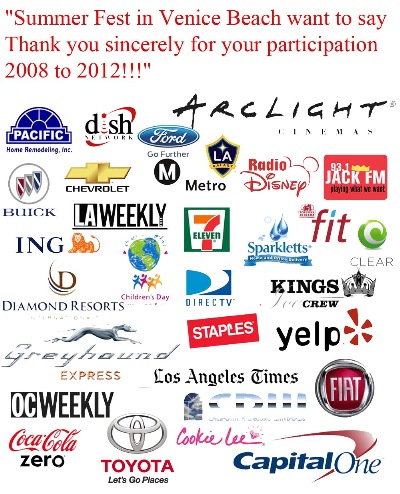 All American finest companies will be there this summer. There is so many companies to thank, just look at who has taken part over the years and there is so many people to thanks as well. La Fitness gave out over 1,000 30day passes for free to the first 1,000 guess at Summer Fest 2011. Save the date now and plan your day at the beach with your friends and family, Labor Day weekend at

See at the beach.
Summer Fest on Venice Beach
July 25 & 26, 2015






Summer sun is out food from all over world is sizzling in the summer sun. Fun Food and Sun at the beach. Come out and hep the homeless youth with S.PY. a safe place for youth.

It's that time of year again and It's time for family and friends. So come out on these special days to shop, meet and greet old friends/family. Come out and support the community. To take part in the walk for Homeless just email us LAHere4u@aol.com

To get in. Call our office. We are accepting special arts and crafts vendors for our summer fair. Call us if you wish to take part in this events! Sponsors! Hand-outs!! Vendors desired: hand-made, home improvements, cosmetics, health & fitness, unique arts and crafts, jewelry, services and information, peace products, pre-wrapped items like candies, chips, crackers, wine-tasting, etc. are good. Anything summer-related!
Summer Fest on Venice Beach



So save your space now. Print out now and mail our your contract this week with check or deposit. Call our office first before you mail out your check. Weekly rates
Costs shows: Booth (10 x 10) - $475 Front/Commercial- $650
Corner - $575
Food Vendor - $875
Drinks - $650
Entrance - $775



Summer Fest brings out people from La and Orange County as well as people from all over the world. We Open Summer for Venice Beach with

Summer Fest on Venice Beach and Close Summer with
Venice Beach Mega Music Feast 2015.


Just in......So READ ON..........Coming soon,,,,

STAY TOON FOR UPDATES ON THIS EVENT. Happy Holidays

The Wonderland Spectacular Oct 24 and NOV 2, 2015 11am to 4am (Location TBA)

Foundation INC, the Make A Wish Foundation LA and OC so stay tuned for more information.


It the holiday's so what better time to give, see friends and family as
well as supporting someone who needs a holiday wish.

Breakfast with Santa, meet and great, free PHOTO and more. Food vendors and booths with the holiday spirit.

The magic of the holidays with kids sections hand made one of a kind
gifts, health and fitness, community service, and food to fill your spirit.

We hope to make this season the best ever for everyone with peace, joy and love




To take part in the walk just email us a Lahere4u@aol.com


To join us at any of our events email us.